August 15: Senator Joe Donnelly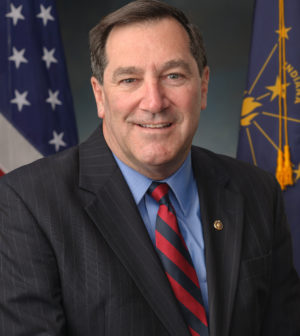 On Tuesday, August 15, the Rotary Club of Indianapolis is excited to welcome Senator Joe Donnelly as our guest speaker. Previously, Senator Donnelly served the 2nd Congressional District of Indiana in the House of Representatives, and was first elected in 2006. After being reelected to the House in 2008 and 2010, he was elected to the Senate in 2012. In the Senate, he serves on the Armed Services Committee, Banking Committee, Agriculture Committee, and Aging Committee.
Senator Donnelly's remarks on Tuesday will focus on his bipartisan record of getting things done for Hoosiers (including on service member mental health and combating the opioid epidemic), his efforts to protect Hoosier jobs, and his work as a member of the Senate Armed Services Committee. He will also be including a question and answer portion for Rotarians in attendance.
Prior to serving in Congress, Joe helped run a small business in Mishawaka and practiced law in South Bend. Joe previously worked with both Democrats and Republicans to ensure fair and accurate election results by serving on the Indiana State Election Board from 1988 to 1989. Additionally, he was a member of the School Board for Mishawaka Marian High School from 1997 to 2001, serving as President during the 2000 to 2001 term.
Joe lives with his wife Jill in north central Indiana. Joe met Jill in South Bend while students at the University of Notre Dame and they have two children, Molly and Joe Jr. From coaching his kids' basketball and baseball teams years ago to being a member of St. Anthony de Padua Parish, Joe has fully invested himself in his community and is proud to call Indiana home.
About Indy Rotary