August 1: Bryan Mills, CEO of Community Health Network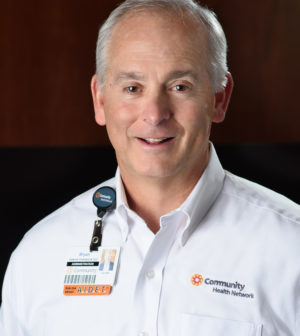 Join Rotary on Tuesday, August 1 as we welcome Community Health Network CEO Bryan Mills presenting "Community's Eastside Commitment." Community Health Network was created on the east side of Indianapolis in 1956 by neighbors, for neighbors. Community proudly traces its roots to the community leaders, civic organizations and countless friendly faces who went door-to-door raising funds to build a hospital close to home at the corner of 16th and Ritter.
Since the opening of Community Hospital East more than six decades ago, Community Health Network has expanded throughout central Indiana. Yet, Community remains wholly committed to its beginnings as it continues to invest time, talent and resources in the eastside community.
Bryan Mills was appointed president and chief executive officer of Community Health Network on May 1, 2009. He had served as CEO of Visionary Enterprises Inc. (VEI), a for-profit affiliate within Community, from 1992 to 2009. Mills began his career with Community Health Network in 1985 as controller for Community Hospital North.
Besides his role with Community Health Network, Mills is very active in the local community. He serves on the boards of directors of United Way of Central Indiana, Indiana Hospital Association, Suburban Health Organization, the Richard M. Fairbanks Foundation, Central Indiana Corporate Partnership and serves as Chairman of the Board for the Indiana Health Information Exchange, and Primaria Health.
About Indy Rotary