DACdb: Prepare to Be Found. Get the Most Out of Your Rotary Membership!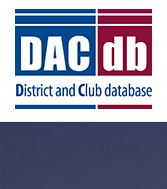 In preparation for our upcoming "Growing your Professional Network: Learn from the Pros!" presentation on April 25, 2017, featuring:
Nikki Lewallen CEO of Rainmakers
Billie Dragoo, CEO of RepuCare
Steven Stolen, VP of Corporate Advancement at the Indy Chamber
The panel will be moderating by Janet Harris, Janet King Harris, CFE, CruiseOne Dream Vacations. We are asking our Rotary members to be sure they are taking full advantage of DACdb, the District and Club Database.  This database provides vital contact and networking information for all Rotarians.  Click on the link below to update your profile and make the most of this valued asset.
Download our PDF to learn how to:
Get logged in
Edit your data
Upload your photo
Enter key words to help Rotarians find you easier
Tell members about yourself, and what you enjoy doing
Export data to Excel, PDF, or Word formats
Create a membership directory
About Indy Rotary