June 13: Rotary Welcomes School Leaders for Education Panel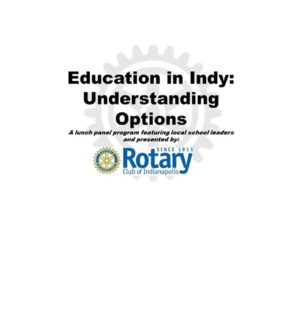 School might be out for the summer, but we're bringing you a special session on Tuesday, June 13! .Click here to register by Friday  for Tuesday's offsite meeting at St. Richard's Episcopal School. 
Our city remains at the forefront of school innovation and education policy. While this subject matter can become political, this special offsite Tuesday luncheon aims to create goodwill by providing basic information about the primary and secondary educational options currently available to families located in downtown Indianapolis.
Panelists will include:
Peter Harding, Head of School, St. Richard's Episcopal School
Janet McNeal, President & Head of School, Herron High School
Tommy Reddicks, Principal, Paramount School of Excellence
Moderator: Gordon Hendry, Member, Indiana State Board of Education
Registration and lunch buffet will open at 11:30 with the bell ringing to signal the start of the program at 12:15. The program has a hard stop of 1:15. Please park in the north and south lots on campus and enter through the front doors of the school or the south entrance. Both entrances have green awnings with St. Richard's on them.
Pre-registration required for this event. Please register by clicking here by Friday at 9:00 a.m.! 
About Indy Rotary