June 20: Rotary to Host Speed Networking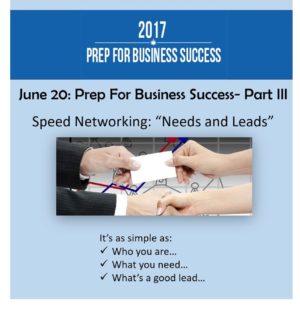 On June 20th, the Club will host its first ever Speed Networking event!
Network within this great club of ours, and possibly with guests, and let others know your "Needs & Leads". Come prepared to rotate in groups of 3, for 8 minutes, sharing your needs and what a good lead looks like for you! In preparation, please make sure your DACdb profile is up to date, bring plenty of business cards- and most importantly, be prepared and succinct on what your needs and leads are for your business, civic or club needs.
Tuesday's meeting is the third in a series organized by the Communications and Business Development committees. The series has focused on personal development and how to better network. This winter, Danny O'Malia talked to us about the importance of customer service and follow up. This spring, we heard from a cast of influential and proven leaders on how they have learned to network and build relationships. NOW is the time to take all these best practices, aha Moments, and nuggets of Inspiration and put them to use!
Looking forward to seeing you there!
About Indy Rotary