2017 Chili Cook-Off Winner!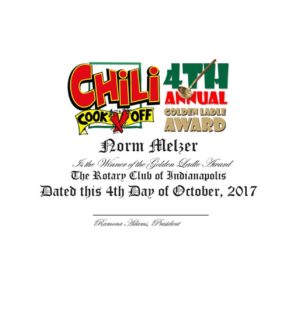 Congratulations to Rotarian Norm Melzer who captured the 4th Annual Rotary Chili Cook-off win on Wednesday, October 4th at the Triton Tap Room in Broad Ripple as part of our 5:31 Club.
Norm was awarded the Silver Ladle Traveling Trophy and was recognized at our weekly meeting on October 10th. Marie Koenig came in 2nd (again) and Matt Burnett and Dave Stamper tied for 3rd. There were over 30 attendees and 15 new members served as judges.
About Indy Rotary