July 5: 5:31 Club at Rick's Cafe Boatyard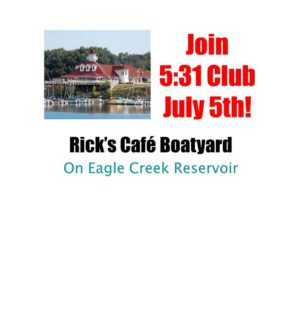 The July 5th 5:31 Club will be at Rick's Cafe Boatyard, 4050 Dandy Trail, Indianapolis, IN, on Eagle Creek Reservoir.
Reservations and punctuality not required! Show up any time between 5:31 PM and 7:00 PM.
5:31 meet-and-greets are our most popular event get-togethers. Just "show-up! Or, for more details contact the Rotary at 317-631-3733! They are a fun way to get to know folks outside of our regular Tuesday programs. We always meet at a new location somewhere in the city and it is never dull!
About Indy Rotary