May 16: Rotary Welcomes Governor Eric Holcomb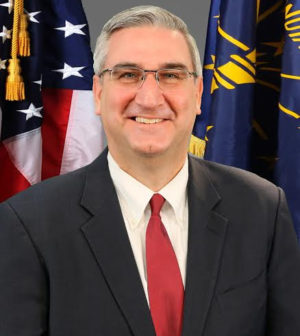 The Rotary Club of Indianapolis is excited to welcome Governor Eric Holcomb to a casual conversation on our Rotary stage on Tuesday, May 16. Rotarian Laura Sniadecki will interview the Governor and we're certain to learn a bit about him and his vision for the state of Indiana. We'll meet upstairs at Ivy Tech Culinary and Conference Center and as always, the public and guests are welcome.
A life-long Hoosier, Governor Holcomb is a veteran of the United States Navy, served as the state's 51st Lt. Governor, was a trusted advisor to both Governor Mitch Daniels and Senator Dan Coats, and was a former state chairman of the Indiana Republican Party.
He was elected governor in November 2016, following an unprecedented 106-day campaign and was sworn in on January 9, 2017.
Throughout his career in service, Governor Holcomb has earned a reputation of being a consensus builder. He has traveled extensively throughout the state; visiting, shooting and making a basket in each of Indiana's 92 counties.
Governor Holcomb is a graduate of Pike High School in Indianapolis and Hanover College in southeastern Indiana where he majored in U.S. History. He is a member of the Indiana Farm Bureau, the National Federation of Independent Business, the Indianapolis WWII Round Table, the American Legion Post 777; and is a board member of the Benjamin Harrison Presidential Site.
He and his wife, Janet, live with their dog, Henry, in the Governor's Residence on North Meridian Street in Indianapolis.
About Indy Rotary